Low-FODMAP Diet Food & Symptom Diary
Have IBS? Stop guessing and be proactive in healing your gut, body and mind.  Keep track of what you eat and drink, as well as bowel movements, any stress or IBS symptoms. Your Food & Symptom Diary will help you and your doctor, and experts in FODMAPs (like a nutritional consultant or registered dietitian) to uncover your IBS triggers!  Click on the image to purchase for $0.99
Low-FODMAP Rechallenge Diary (2 pages)
Are you now finished with the Elimination Phase of the low-FODMAP diet and ready to move on to challenge 10 FODMAP-containing foods?  If so, this Rechallenge Diary will allow you to keep a record of each FODMAP challenged as well as any symptoms.  You'll be able to easily track which FODMAPs you can safely go on to enjoy fully or in limited servings, and which FODMAPs to avoid.  Click on the image to purchase for $0.99
Here you can create the content that will be used within the module.
When eating out on the low-FODMAP diet, you will need a couple tips to help you navigate menus and choose the best foods.  This guide will lead you through many cultural dining scenarios and give you the confidence you need to eat smart! Click on the image to purchase for $1.99
Stumped for ideas for your next breakfast? Not sure which foods you can use? This sheet will help you to easily choose from several low-FODMAP foods and also gives you the proper serving sizes so you can confidently make your next delicious breakfast! Click on the image to purchase for $0.99
Just like building your own sandwich at the deli counter, this sheet will help you to easily choose low-FODMAP foods to make your next delicious sandwich!Click on the image to purchase for $0.99
Download my free Weekly Meal Plan Worksheet! This worksheet will help you to stay prepared and less likely to go "hangry"!
Low-FODMAP Shopping Bag
by FODMAPLife
Next time you go to the store, bring this bag along which has a handy list of healthy low-FODMAP foods to incorporate into your low-FODMAP diet!
Purchase here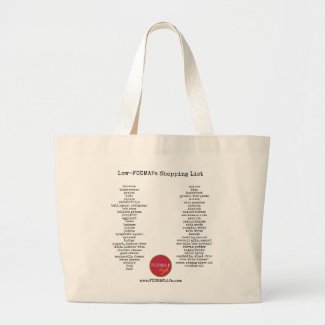 My Low-FODMAP Diet Journal
by FODMAPLife
Are you following the low-FODMAP diet? You'll want this personal journal to keep track of the foods and drinks you consume, as well as any bowel movements or stressful situations. Keeping a journal on the diet may help you to more quickly uncover possible triggers (foods, stress, environment). Once you know your triggers, you'll have peace of mind about which FODMAPs you should avoid and which to enjoy, allowing you to finish the diet and move on to a modified low-FODMAP diet!
Purchase here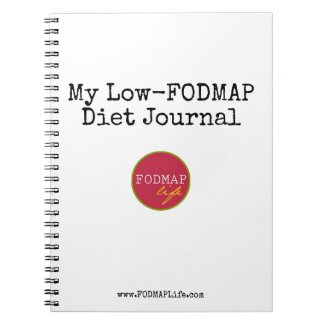 High-FODMAP Sticker
by FODMAPLife
After you've gone shopping for low-FODMAP foods, these stickers are great to remind yourself which foods you already have in your home that are high in FODMAPs. Just stick on to packages or bags or produce bags, and you'll be less likely to consume the wrong high-FODMAP foods (or drinks).
Purchase here